by Volker on Nov.02, 2021, under Allgemein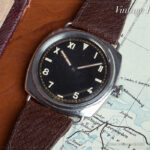 The Ref. 3646 / Type E will be auctioned on 21 November 2021 at Webb's Fine Jewels, Watches & Luxury Accessories. You can read more about this watch here or go directly to the auctioneer's website (Lot 423).
Features of the watch:
Reference: 3646 / Type E
Dial: "California Dial"
Case number: 2609XX
Movement: Rolex Cal. 618 / Type 1 mod.
[Photo with kind permission / courtesy of www.webbs.co.nz]
Interesting read can be found in our book "History2" on page 628-629, too.
:"California Dial", 3646, Rolex, Type 1 mod., Type E, www.webbs.co.nz