by Volker on Sep.07, 2021, under Allgemein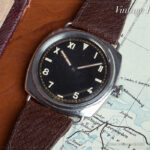 Webb's auction house from Auckland / New Zealand contacted us recently, providing information and photos of a yet unknown Ref. 3646 / Type E with "California Dial". The watch appears with the matching flat bezel and both lead seals above and below the 47 mm cushion shaped case. The outer caseback is not engraved and the inner caseback is missing the Rolex hallmark and reference number, which is a typical feature of Ref. 3646 / Type E watches. The onion shaped winding crown ("BREVET +" Type 11) can be screwed down onto the collar of the 47 mm cushion shaped case with soldered lugs.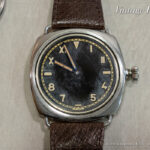 The "Error-Proof Radium Dial" by Rolex, with its railroad track minute markers and "SWISS MADE" signature at six o'clock, features half arabic and half roman numbers with luminous material applied from above.
Since 2016, five new watches of the number group Ref. 3646 / Type E surfaced, two of them expanded the number group from 260856 – 261097 (as of 1.1.2016) to 260850 – 260111. We have 31 Ref. 3646 / Type E watches recorded as of today, including this specimen from New Zealand.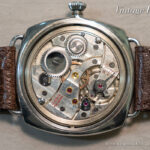 Features of the watch:
Reference: 3646 / Type E
Dial: "California Dial"
Case number: 2609XX
Movement: Rolex Cal. 618 / Type 1 mod.
You can read more about Ref. 3646 watches with dissappeared Rolex hallmarks here.
[Photos with kind permission / courtesy of www.webbs.co.nz]
:"California Dial", 3646, 696, Rolex, Type 1 mod., Type E, www.webbs.co.nz