by Volker on Aug.26, 2021, under Allgemein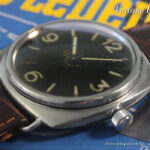 We recently added another yet unknown watch into our records: a "Kampfschwimmer" watch with anonymous, painted brass dial. Today it marks watch #104 which is matching the criteria for our database classification of the Ref. 3646 / Type D.
You can read more about the watch and its details here.
:"Kampfschwimmer", 3646, database, Rolex, Type D