by Volker on Aug.26, 2021, under Watch Point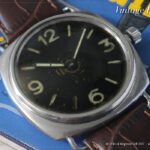 We recently added another unknown watch into our database – yet another piece of the puzzle surfaced, which marks the Ref. 3646 / Type D #104 in our records. The "Kampfschwimmer" watch with anonymous painted brass dial appears with an unpolished case with a matching flat bezel. The original winding crown has been replaced.
Watches of the Reference 3646 / Type D are featured in our book "The References" 1930's-1940's in chapter II.IV (page 398-531) including a historic photo of a "Kampfschwimmer" wearing a 3646 with brass dial on page 475. Brass dialed Ref. 3646 / Type D are featured on page 468-493. In this part of the book, an overview of different decorative polish on the inside of the caseback (Type A – Type G) can be found on page 486.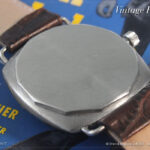 The caseback of the watch is not engraved. However, a handwritten note from the son of the "Kampfschwimmer" explains that his father completed his training in Bad Tölz at Lehrkommando 702. You can read more about the training site Bad Tölz and the Lehrkommando 702 in our book "History2" on page 660-662 and 789-795.
The watch will be up for auction on November 13, 2021 at Dr. Crott's 105th auction in Mannheim.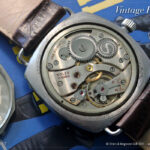 The inner caseback bears the typical Rolex SA hallmark, reference and case number known for 3646 / Type D watches. Inside the watch is a Rolex Cal. 618 / Type 1 movement with typical decorations and engravings on the bridges (ROLEX 17 RUBIS / FAB. SUISSE).
Features of the watch:
Reference: 3646 / Type D
Dial: "Kampfschwimmer"  (painted brass, anonymous)
Case number: 2607XX
Movement: Rolex Cal. 618 / Type 1
We hope that this Ref. 3646 / Type D with brass dial will find a good new home and remains surfaced in the Vintage Panerai collectors world. [Ralf Ehlers & Volker Wiegmann]
:"Kampfschwimmer", 3646, 696, Dr. Crott, Type D