by Volker on Dec.31, 2022, under General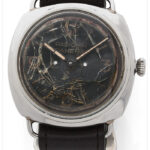 Artcurial will auction a Ref. 3646 / Type C with riveted plastic dial in their upcoming auction on 16 January 2023 (Lot 232) in Monte-Carlo (Hôtel Hermitage Monte-Carlo, Square Beaumarchais).
The watch is one of 65 watches we have recorded since 2003 in the number group 3646 / Type C. In 2016, we had 52 watches recorded and featured in our book "The References" 1930's-1940's. Until today – including this specimen – the total number for watches of the Ref. 3646 / Type C increased from 52 to 65.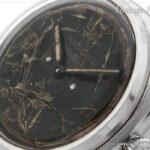 Watches with the riveted plastic dials are rare, and inbetween case numbers from 1010091 to 1010374 (3646 / Type C) we know today only five. In 2016 we had already just four and this specimen introduced here is the 5th. The five watches with this type of dial are spread all over the known case numbers, so its not like they were put into watches with a similar / consecutive case number close together.
We mention just two examples of 3646 / Type C with such dials: One belongs to Panerai's own Museum collection (its one of the lowest case numbers of 3646 / Type C we have recorded), and another similiar watch has been published in the book "Military Wristwatches" (Michele Galizia, 2008) with one of the highest case numbers in 3646 / Type C known today.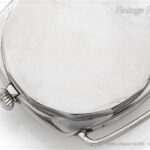 The watch comes with a typical onion crown ("BREVET +" / Type 11). It is notable that this watch shows a solder point on the back of the casing near the crown. The high version of the bezel of this watch is another characteristic of watches with a sandwich dial.
Another Ref. 3646 / Type C watch with a similar case can be found in chapter II.III on page 312-313 in our book "The References" 1930's-1940's. Same features of this watch are the long strap loops soldered to the case, which point slightly downwards, as can be seen in the photo.
Read more on watches of the Ref. 3646 with riveted plastic dials also here. Ref. 3646 watches with this dial version can be found in our book on page 154-159, 176-193 and 226-228 (chapter II).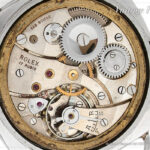 Features of the watch:
Reference: 3646 / Type C
Dial: "Radiomir Panerai"  (sandwich, riveted plastic dial)
Case number: 1010XXX
Movement: Rolex Cal. 618 / Type 1
[Photos with kindly permission / courtesy of www.artcurial.com]
We hope that this Ref. 3646 / Type C with riveted plastic dial will find a good new home and remains surfaced in the Vintage Panerai collectors world. [Ralf Ehlers & Volker Wiegmann]
:"Radiomir Panerai", 3646, Rolex, Type 1, Type C, www.artcurial.com