by Volker on Jul.17, 2022, under Allgemein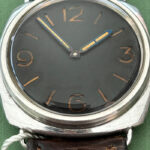 We added another previously unknown watch into our database – yet another piece of the puzzle surfaced, which marks the first entry of a Ref. 3646 / Type D in 2022 and in total the Type D #107 in our records.
The "Kampfschwimmer" watch with anonymous sandwich dial appears with a rare engraving on its caseback, bearing the initials of the first owner and the name of the unit he belonged to (Marine Kampfschwimmer 1945).
The inner caseback of the watch (full polished, read more in "The References" 1930's-1940's on page 486-487) bears the Rolex SA hallmark, reference and case number known for 3646 / Type D watches. Inside the watch is a Rolex Cal. 618 / Type 1 movement with typical decorations and engravings on the bridges (ROLEX 17 RUBIS / FAB. SUISSE).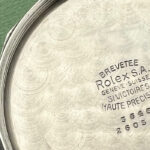 Still sewn onto the soldered lugs is the original leather strap (!) including the large and very rare nickel-plated brass pin buckle. The watch has its original onion shaped winding crown and the typical blued steel hands with original luminous material.
Features of the watch:
Reference: 3646 / Type D
Dial: "Kampfschwimmer" (sandwich, anonymous)
Case number: 2605XX
Movement: Rolex Cal. 618 / Type 1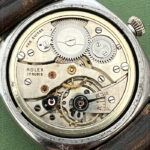 The first owner of the watch took part in a frogmen mission against Russian pontoon bridges across the river Oder at Aurith, near Fürstenberg, in March 1945. You can read about these frogmen missions in our book "History1" in chapter II on page 83-123. The first owner was born in 1924 and passed away in 2000.
The watch is accompanied with an interesting documentation of his service during the Second World War and further information about his life, after he was released from British imprisonment in 1945.
If you are interested to buy this watch, please contact the owner directly via e-mail: albert59er@t-online.de
:"history1", "Kampfschwimmer", 3646, database, Rolex, Type 1, Type D