by Volker on Apr.15, 2022, under Allgemein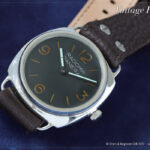 We recently added another unknown watch into our database – yet another piece of the puzzle surfaced: a Ref. 3646 / Type C with "Radiomir Panerai" sandwich dial, being watch #63 in our records of watches matching the criteria of the 3646 / Type C.
The Ref. 3646 / Type C "Radiomir Panerai" will be auctioned on 21 May 2022 at Dr. Crott's 106th auction in Mannheim/Germany. It has been consigned by the family of the German "Kampfschwimmer" veteran Heinz Greten. Further info on auction lot 156 can be found here.
The watch appears with an unpolished case with a matching high bezel, typical for watches with "Radiomir Panerai" sandwich dial. The watch comes with a tubular shaped Rolex Oyster crown (Type 13). Inside the watch is a Rolex Cal. 618 / Type 1 movement with typical decorations and engravings on the bridges (ROLEX 17 RUBIS / FAB. SUISSE). The inner caseback bears the typical Rolex SA hallmark, reference and case number known for 3646 / Type C watches, with "Half Polish" decoration. Both hands appear black painted and re-lumed. The inner caseback bear also watchmakers' service marks.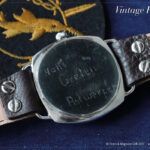 Noteworthy:
The outer caseback of the watch bear engravings of the first owner, German "Kampfschwimmer" Petty Officer Hans Greten with the additional info Antwerpen, referring to a mission he took part in September 1944.
The mission ("Operation Bruno" – the attack of the Kruisschans floodgates in Antwerp) is documented in the book "Sabotage unter Wasser" written by Michael Jung (2004) on page 120-121, as well as a photo of Hans Greten on page 107. Further info on this frogmen mission is also found in the book "Das Kommando der Kleinkampfverbände der Kriegsmarine" written by Helmut Blocksdorf (2003), on page 181. The earliest documentation of the mission is dating back to 1956 in the book "…denn sie liebten doch das Leben" written by Cajus Bekker (chapter six, page 148-160), in which Greten is mentioned several times (all books are written in German language).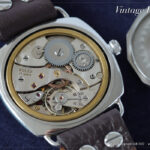 Features of the watch:
Reference: 3646 / Type C
Dial: "Radiomir Panerai" (sandwich)
Case number: 10102XX
Movement: Rolex Cal. 618 / Type 1
In our book "The References" 1930's-1940's the watches of the entire reference 3646 are featured in chapter II with more than six hundred pages in the chapters II.I-II.VII. The seven different variations (including the number group 3646 / Type C – page 248-397 – to which this watch belongs) can be found in our reference quickfinder on page 14-20.
Please note that the very rare campaign insignia 3rd degree (visible in the background of the second photo) is the (separate) lot 155 and is not included in the lot of the watch. Information on different probation and campaign insignia of the German "Kampfschwimmer" units can be found in our book "History2" in chapter IX.
We hope the watch will find a good new home and that it remain surfaced in the Vintage Panerai collectors world. [Ralf Ehlers & Volker Wiegmann]
:"Kampfschwimmer", "Radiomir Panerai", 3646, 696, Dr. Crott, Rolex, Type 1, Type C