by Volker on Apr.13, 2022, under Allgemein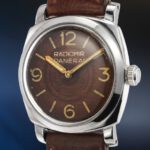 Phillips will feature a very rare Ref. 6154 "Small Egiziano" in their upcoming auction Geneva Watch Auction: XV. Between the different Vintage Panerai references, the 6154 is one of the rarest and most attractive because of its unique flat case design and only a small number of watches existing today. The watch appears with brown faded "Radiomir Panerai" dial, 8 mm Rolex crown and Rolex 618 / Type 1 movement. The auction lot includes a depth gauge and a rare underwater torch, known to be used by Egyptian frogmen in the 1950's and 1960's. Further info on this watch (lot 293) can be found here.
This particular watch can be traced back to the year 1995 when it was auctioned at Antiquorum in Geneva. Two years later, in 1997, it was published in the book "Militari da polso" on page 60. The watch was also published in our book "The References" (2009 edition, sold out) on page 197 and again – in detail – in our book "The References" 1950's-1960's on page 808-817.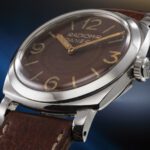 Read the historical background on watches and instruments from Guido Panerai & Figlio used by the Egypt frogmen in chapter VII and IX of "The References" 1950's-1960's, including rare photos of an Egyptian frogmen wearing Guido Panerai & Figlio instruments (page 794, 1064 and 1068). 
The "Maserati" amongst Vintage Panerai references because of its flat, elegant and streamlined case, was auctioned in 2016 at Phillips Geneva Watch Auction: FOUR and remained under the surface since then.
We hope that also this watch will find a good new home and remains surfaced in the Vintage Panerai collectors world. [Ralf Ehlers & Volker Wiegmann]
[Photos courtesy of www.phillips.com]
:"Radiomir Panerai", 6154, www.phillips.com