by Volker on Sep.12, 2021, under Allgemein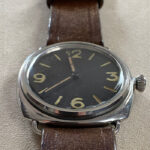 Introducing another Ref. 3646 / Type E watch which surfaced in Germany – this specimen appeared with painted brass dial.
Noteworthy is the well preserved original strap and "Bottle Opener" buckle, wich most of today's surfacing watches don't have anymore.
The "Kampfschwimmer" watch with anonymous painted brass dial has an unpolished case with a matching flat bezel. The onion shaped winding crown ("BREVET +" Type 11) can be screwed down onto the collar of the 47 mm cushion shaped case with soldered lugs.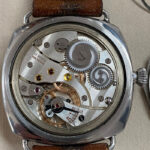 Features of the watch:
Reference: 3646 / Type E
Dial: "Kampfschwimmer" (painted brass, anonymous)
Case number: 2608XX
Movement: Rolex Cal. 618 / Type 1 mod.
Inside the watch is a Rolex Cal. 618 / Type 1 mod. movement with typical decorations and engravings on the bridges (17 RUBIS / FAB. SUISSE). The blued steel hands appear untouched with original luminous material. The inner caseback is decorated with half polish. An overview of different decorative polish on the inside of the caseback (Type A – Type G) can be found on page 486 in our book "The References" 1930's-1940's.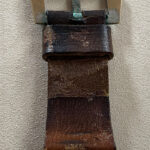 Find more info on straps and buckles here. More info on Ref. 3646 watches without Rolex hallmarks can be found here. More info on Ref. 3646 watches with brass dials can be found here.
Here we added another unknown watch into our database – yet another piece of the puzzle surfaced. Thanks to the collector who shared the photos and information with us!
:"Kampfschwimmer", 3646, 696, Rolex, Type 1 mod., Type E