by Volker on Mar.29, 2021, under Watch Point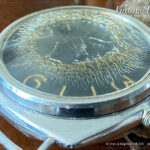 The Ref. 3646 / Type D with anonymous "Kampfschwimmer" dial appears at Dr. Crott Auctioneers' 104th auction (22 May, 2021 in Mannheim/Germany) with an unpolished case with a matching high bezel and original, domed plexi.  The blued steel hands appear skeletonized, broken out lume on both hands. The caseback of the watch is plain (not engraved with a signature or initials of the first owner). Currently, this watch is the first new entry in 2021 and 103rd specimen in the number group of Ref. 3646 / Type D watches in our database.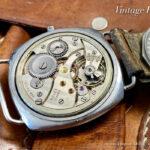 Inside the watch is a Rolex Cal. 618 / Type 1 movement with typical decorations and engravings on the bridges (ROLEX 17 RUBIS / FAB. SUISSE). The inner caseback bears the typical Rolex SA hallmark, reference and case number known for 3646 / Type D watches, with "Half Polish" decoration.
Watches of the Reference 3646 / Type D are featured in our book "The References" 1930's-1940's in chapter II.IV (page 398-531). In this part of the book, an overview of different decorative polish on the inside of the caseback (Type A – Type G) can be found on page 486. Read more on our specification of the Reference 3646 here.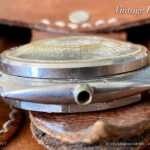 Features of the watch:
Reference: 3646 / Type D
Dial: "Kampfschwimmer" (sandwich, anonymous)
Case number: 2606XX
Movement: Rolex Cal. 618 / Type 1
Still sewn onto the upper soldered lug is one part of the original leather strap including the large, nickel-plated brass pin buckle. The original onion shaped winding crown and the stem are unfortunately missing. Its not impossible to find these parts, however it is not easy, too. But if this would happen after the auction during a service, the new owner would have a very nice Ref. 3646 / Type D with a lot patina on his wrist.
The watch is up for auction at Dr. Crott Auctioneers here.
We hope that this Ref. 3646 / Type D with brass dial will find a good new home and remains surfaced in the Vintage Panerai collectors world. [Ralf Ehlers & Volker Wiegmann]
[Photo of the Ref. 3646 / Type D courtesy of www.uhren-muser.de]
:"Kampfschwimmer", 3646, Dr. Crott, Rolex, Type 1