by Volker on Nov.09, 2020, under Watch Point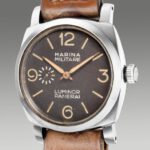 Phillips will feature a rare Ref. 6152/1 "Fourliner" in their Hong Kong Watch Auction: XI, which will be held on Sunday, 29 November 2020. Read more about lot 998 here.
Features of the watch:
Reference: 6152/1
Dial: "Fourliner"
Case number: 124964
Matriculation number: 31
Movement: Angelus Cal. 240 SF (8 days)
Typical for watches with this case and dial configuration (however only very few are known compared to the Ref. 6152/1 watches with Rolex movements) is the display caseback, featuring the matriculation number 31, with a view onto the Angelus movement, signed MAI.61.
Similar watches of the Reference 6152/1 with Angelus movement and Rolex crown (with matriculation number 35, 45 and 52) can be found in chapter X.III (page 1212-1259) of our book  "The References" 1950's-1960's .
We hope that this Ref. 6152/1 with Angelus movement and "Fourliner" dial will find a good new home and remains surfaced in the Vintage Panerai collectors world. [Ralf Ehlers & Volker Wiegmann]
[Photo courtesy of www.phillips.com]
:"Luminor Panerai", 1392, 6152/1, Angelus, www.phillips.com