by Volker on Nov.09, 2020, under Watch Point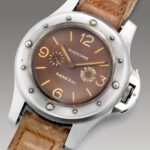 Phillips will feature a rare GPF 2/56 "Big Egiziano" with in their Hong Kong Watch Auction: XI, which will be held on Sunday, 29 November 2020. Read more about lot 996 here.
Features of the watch:
Reference: GPF 2/56
Dial: "Radiomir Panerai" (sandwich, engraved)
Case number: 019
Movement: Angelus Cal. 240 SF (8 days)
[Photo courtesy of www.phillips.com]
This "Big Egiziano" bears the matriculation number 019 on the inside of the caseback, which is screwed onto the body by six screws. The "engine" of this watch with a case size of 60 mm and rotating bezel, the Angelus Cal. SF 240 eight-days-movement, is signed "12.55" and equipped with an Incabloc shock protection.
A similar GPF 2/56 with also brown faded "Radiomir Panerai" dial (case number 018) has been featured back in 2011 when it was auctioned at Christies here.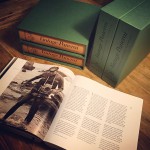 Watches of the Reference GPF 2/56 can be found in chapter IX (page 1058-1161) of our book  "The References" 1950's-1960's. Read also the historical background on watches and instruments from Guido Panerai & Figlio used by the Egypt frogmen ("Al ferka al serria") in chapter VII and IX, accompanied with rare historic photos.
We hope that this "Big Egiziano" will find a good new home and remains surfaced in the Vintage Panerai collectors world. [Ralf Ehlers & Volker Wiegmann]
:"Radiomir Panerai", 1392, Angelus, GPF 2/56, www.phillips.com