by Volker on Feb.12, 2020, under Watch Point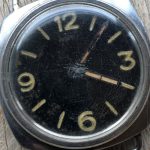 We have recently added another unknown watch into our database – yet another piece of the puzzle surfaced, which marks the Ref. 3646 / Type D #100 in our records at the beginning of the year 2020.
The watch with anonymous painted brass dial appears with an unpolished case with a matching flat bezel. The caseback of the watch is not engraved. It remained in a drawer during the last decades and was introduced to us in the last days of January by the current owner.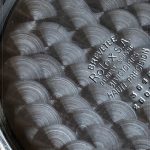 The inner caseback bears the typical Rolex SA hallmark, reference and case number known for 3646 / Type D watches. Watches of the Reference 3646 / Type D are featured in our book "The References" 1930's-1940's in chapter II.IV (page 398-531) including a historic photo of a "Kampfschwimmer" wearing a 3646 with brass dial on page 475. Brass dialed Ref. 3646 / Type D are featured on page 468-493. In this part of the book, an overview of different decorative polish on the inside of the caseback (Type A – Type G) can be found on page 486.
Inside the watch is a Rolex Cal. 618 / Type 1 movement with typical decorations and engravings on the bridges (ROLEX 17 RUBIS / FAB. SUISSE). The blued steel hands appear untouched, with the original luminous material, partially broken out on the minute hand. Original winding crown and stem are missing.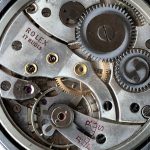 Features of the watch:
Reference: 3646 / Type D
Dial: "Kampfschwimmer"  (painted brass, anonymous)
Case number: 2607XX
Movement: Rolex Cal. 618 / Type 1
The watch will be up for auction here.
:"Kampfschwimmer", 3646, database, Rolex, Type 1, Type D